Train like a champion in the new ProForce Velocity Shoe. A high top training shoe, engineered with the understanding that footwork is everything. The lightweight and durable foam mesh upper with abrasion resistant toe, allows incredible flexibility while maintaining unparalleled ankle support. The midsole is constructed with strong light-weight materials to maximize speed and stability in and out of the ring. A solid offense starts with a solid base. Because of this, we focused on the shoe's feel for the floor and traction with rubber soles durability. The versatile hybrid design allows athletes to seamlessly transition from gym to canvas for optimal training and competitive performance. These training masterpieces also feature reflective panels with built in UCV ventilation, to ensure safe training anywhere and anytime. ProForce Velocity Shoes ensure maximum traction and stability without compromising speed and mobility. Enhance support during punching, movement, and sudden change of direction with ProForce Velocity Shoes today. Proven to be better than the shoes that you train in now.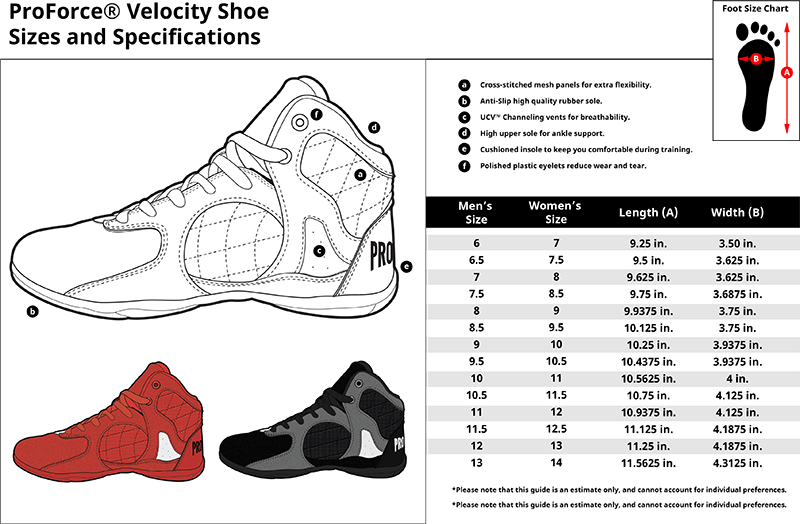 Key Features
Lightweight durable mesh with abrasion resistant toe.
The midsole is constructed with strong light-weight materials
Sole is constructed with tire quality rubber composite
Reflective UCV panels for ventilation.
Great for cross training in Boxing, MMA, Wrestling, and Weightlifting
Sized for men. Women sizes are 1-1.5 size smaller
Our standard ground shipping and handling charge for 
retail
 orders is $15.95 plus any oversize charges if applicable per order. AWMA uses UPS Ground, air mail, or parcel post unless requested otherwise. The cost will depend on the quantity, weight, dimensions, and the destination of the parcels. UPS Ground takes one (1) to six (6) business days once the package leaves our warehouse in Philadelphia, Pennsylvania. UPS will attempt delivery three (3) times before sending the parcel back to us. The time of delivery is dependent on your local UPS driver. For expedited shipping, please contact our offices at 1-800-345-2962.
High Risk Activity
Martial Arts and Boxing are contact sports. Participation in these activities should be considered high-risk sports activity.Your participation in any of these activities is at your own risk. You agree to consult with a physician before participating in any of these high-risk activities. The use of ProForce products are at the participant's risk. Martial arts, boxing or any contact sport may result in injury, disability, and death. Proper use of the equipment reduces such risks but does not eliminate or guarantee protection against them.
Assumption of the Risk
By buying ProForce's products, you understand and agree that boxing and martial arts are high risk activities and, to the extent permitted by law, YOU EXPRESSLY AND VOLUNTARILY ASSUME THE RISK OF DEATH OR OTHER PERSONAL INJURY SUSTAINED WHILE PARTICIPATING IN SUCH ACTIVITIES WHETHER OR NOT CAUSED BY THE NEGLIGENCE OR OTHER FAULT of ProForce including but not limited to equipment malfunction from whatever cause, or any other fault of ProForce. Additionally, you agree to indemnify, defend and hold ProForce harmless from any third party claims arising from such High Risk Activities or Martial Arts Weapons or any other ProForce product.
Purchasers, users and participants assume all risk of injury. ProForce cannot and will not be responsible for the misuse or unauthorized and improper use of products sold through this website, ProForce's catalog or otherwise.
Use of Martial Arts Equipment
The equipment sold by ProForce offers varying degrees of protection, but is not warranted to protect the user from injury. Users are responsible for their choice in the level of protection afforded by the products purchased. Users of these products are subject to bodily injuries, including death, despite using this equipment. The user must assume full responsibility for all risk of injuries. The manufacturer and distributor assume no liability for injuries or death suffered while wearing protective products.
READ AND FOLLOW SPECIFIC WARNINGS AND INSTRUCTIONS ON PRODUCTS AND IN PRODUCT LITERATURE OR INSERTS. SAVE THESE DOCUMENTS FOR REFERENCE.
ALWAYS INSPECT ALL sparring, weapons, equipment, and any protective gear before use since over time and wear of these products may result in the need to replace them.
DO NOT USE old, damaged or modified gear.
Use of products MUST be under the supervision of a skilled instructor who responsibly monitors techniques and intensity of training to assure that students are properly trained and physically conditioned. Minors using these products should have constant, qualified, adult supervision.
Martial Arts Weapons: Warning
Any martial art weapons sold by ProForce are intended for demonstration or display as a collection item only. Use and misuse of Martial Arts weapons involves serious risks, including injury, disability and death. Weapons are sold only for training under expert supervision, for demonstration of forms, collection or display. Inspect weapons before each use to ensure they are in proper condition. If any unsafe condition is observed, do not use the product. Do not use weapons for sparring or contact.
Sales of certain items are governed by local, state, federal and international law. It is the buyer's responsibility to check all applicable law concerning use, ownership, legal age and possession of any product offered by ProForce. By purchasing any item, the buyer warrants compliance with all local, state, federal and international law, and that the buyer is legally able to purchase and sell all items being purchased from ProForce's website or catalog.
ProForce DISCLAIMS ANY AND ALL LIABILITY RELATED TO IMPROPER, ILLEGAL, UNINTENDED USE OR MODIFICATION OF WEAPONS SOLD THROUGH THE WEBSITE OR CATALOG.
The purchaser, user or participant assumes all risk of injury from any use. No weapons are sold to anyone under 18 years of age without parental consent. Some weapons may be prohibited in your area. Please check state statutes and local ordinances before ordering.
Have questions? Prefer to order by phone at 1-800-345-2962? We're here to help you!